Java API for multi-format document conversion
Convert format to format - conversion APIs lets you convert all common business document formats within any Java based application
Download Free Trial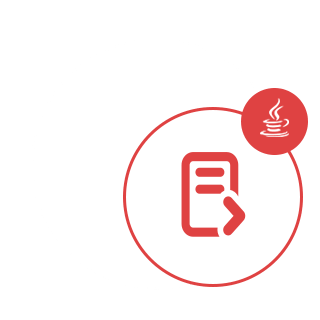 GroupDocs.Conversion for Java
GroupDocs.Conversion for Java is a lightweight multi-format document conversion API designed as a middle-ware for Java applications. It allows you to enhance your app with the capability to convert back and forth over 50 document and image file formats.
At A Glance
An overview of Java conversion API.
Native Java API
Simple to Use
Abstract Storage
Abstract Cache
Spreadsheet Formats
Word Processing Formats
Presentation Formats
Image Formats
PDF Format
HTML Format

Platform Independence
Supported Operating Systems and Environments
Windows, Desktops and Servers
Linux
macOS

API Supported Output Document Formats
GroupDocs.Conversion for Java supports following formats.
Microsoft Office, Visio & Project
Word: DOC, DOCX, DOT, DOTX, DOCM, DOTM, RTF
Excel: XLS, XLSX, XLSM, XLSB, XLTX, XLTM
PowerPoint: PPT, PPTX, PPS, PPSX, POTX, POTM, PPTM, PPSM
Visio: VSD, VSDX, VSS, VST, VSX, VTX, VDW, VDX, SVG, VSDM, VSSM, VSTM
Project: MPP, MPT
Outlook: MSG, EML, EMLX
OpenDocument & Other Formats
OpenDocument: ODT, OTT, ODS, ODP
Fixed Layout Formats: PDF, XPS
Image Formats: BMP, GIF, JPG, JPEG, Jpeg2000, PNG, TIFF, TIF, ICO
AutoCAD Drawings: DXF, DWG, IFC, STL
Web: HTML, MHT, HTM
Text: TXT, CSV
Photoshop: PSD
LaTex: LaTex
XML: XSLT

Previous
Next
Advanced Document Conversion API Features
Over 50 file formats supported
Fast and accurate document conversion
High quality output files
Flexible File Path Handling
Possibility to convert specific pages
File IO though Java stream with auto detect source file type
Report conversion progress
Add text as watermark to converted document
Count total pages of a document
Return all possible conversions from file extension or stream
Dedicated Technical Support
Flexible File Path Handling
The input documents can be read from a URL or a file path, while output documents can be either saved to a file or sent directly into streams - the library automatically provides you with paths to each saved file/stream
Easy Integration
GroupDocs.Conversion for Java API can easily be integrated with just few lines of code.
Document conversion - Java
 // Setup Conversion configuration




ConversionConfig

 config = 

new

 ConversionConfig();
config.setStoragePath(

"D:\storage\"

);  


 // Initailize ConversionHandler




ConversionHandler

 conversionHandler = 

new

 ConversionHandler(config);


WordsSaveOptions

 saveOption = 

new

 WordsSaveOptions(); 

//Define save options


saveOption.setOutputType(

OutputType

.String); 


//Convert and save




ConvertedDocument

 convertedDocumentPath = conversionHandler.<String>convert(

"sample.pdf"

, saveOption);
convertedDocumentPath.save(fileName +

"."

 + convertedDocumentPath.getFileType());

Dedicated Technical Support
To help you get up and running quickly, we offer comprehensive code samples and free technical support during integration period. We are also open to work with you on custom implementations to adapt the library to your specific needs.
Support and Learning Resources
GroupDocs.Conversion offers document automation APIs for other popular development environments as listed below: