.NET APIs for document and image format conversion
Transform documents and images to new formats within your .NET applications that target Windows Forms, ASP.NET, WPF and WCF Services
  Download Free Trial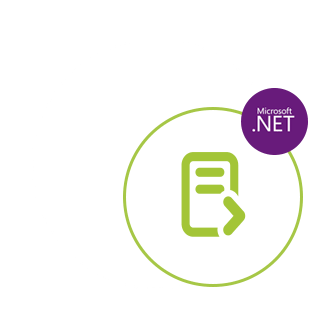 GroupDocs.Conversion for .NET
GroupDocs.Conversion for .NET is an advanced document conversion API developed to convert document formats from within any .NET application. This features-rich API empowers you to work with document conversion operations back and forth over 50 documents and image file formats. Using the document converter API is very simple as it used just one method with set of options to convert between different formats.
At A Glance
An overview of .NET conversion API how to convert one document format to another.
Single DLL
IFrame
JavaScript
Batch Conversion
Conversion Report
Progress Callbacks
Abstract Storage & Caching
Auto-detect File Types

Platform Independence
Supported Operating Systems and Frameworks
Microsoft Windows Desktop
Windows Server
Windows Azure
Linux
.NET Framework 2.0 or higher
Mono Framework 1.2 or higher
ZIP Archive
MSI Package
NuGet

API Supported Output Document Formats
GroupDocs.Conversion for .NET API supported formats
Microsoft Office, Visio & Project
Word: DOC, DOCX, DOT, DOTX, DOCM, DOTM, RTF
Excel: XLS, XLSX, XLSM, XLSB, XLTX, XLTM
PowerPoint: PPT, PPTX, PPS, PPSX, POTX, POTM, PPTM, PPSM
Visio: VSD, VSDX, VSS, VST, VSX, VTX, VDW, VDX
Project: MPP, MPT
Outlook: MSG, EML, EMLX
OpenDocument & Other Formats
OpenDocument Formats: ODT, OTT, ODS, ODP
Fixed Layout: PDF, XPS
Images: BMP, GIF, JPG, PNG, TIFF, ICO
AutoCAD Drawings: DXF, DWG, STL, IFC
Web: HTML, MHT, HTM
Text: TXT, CSV
Photoshop: PSD

Previous
Next
Advanced Document Conversion API Features
Over 50 file formats supported
Fastest on-the-fly conversion API
High quality output files
Progress callbacks for ASP.NET apps
Batch conversion of multiple files
Report conversion progress
Abstract storage and cache
Auto detect source type for stream input
Get available document save options
Convert Between Document and Image Formats
Using native .NET document conversion API – programmers can employ just a single method to convert between 50 documents and image file formats within their ASP.NET, C# and .NET applications.
Installation and Usage
GroupDocs.Conversion for .NET API files can be installed/downloaded directly as:
Once the APIs package is installed using any of the these sources – just add reference of GroupDocs.Viewer.dll file and you are ready to render and display documents in over 50 formats.
How API Works
Gets the file path as input.
Gets the file storage path.
Converts the document of input file.
Performs conversion operation and return the output (As Path, Stream) (if required)
Support and Learning Resources
GroupDocs.Conversion offers document automation APIs for other popular development environments as listed below: