.NET comparison APIs - Compare files for changes
A difference checker solution for two same format documents within any of your .NET application that targets Windows Forms, ASP.NET, WPF or WCF Services
  Download Free Trial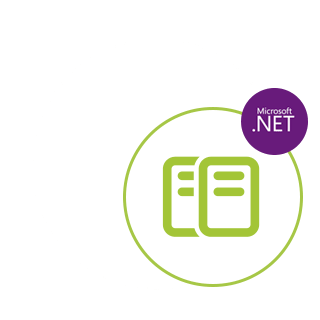 GroupDocs.Comparison for .NET
GroupDocs.Comparison for .NET – An API to compare and merge Microsoft Word, Excel, PowerPoint, openDocument ODT, PDF, Text and HTML documents.
Document comparison API compares content to detect changes for words, paragraphs and characters. It also compares style changes like font size, bold, italic etc. Differences summary saved in a separate result file
At A Glance
An overview of .NET comparison API.
Compare Contents & Styles
Accept/Reject Changes
Merge & Compare
Support for Streams
Compare Multiple Documents
Word's Native "Track Changes"
Save Summary Separately
Summary Details as Number of Adds, Updates & Deletes

Platform Independence
Supported Operating Systems and Frameworks
Microsoft Windows Desktop
Windows Server
Windows Azure
Linux
.NET Framework 2.0 or higher
Mono Framework 1.2 or higher
ZIP Archive
MSI Package
NuGet

API Supported Document Formats
.NET document comparison API supported formats.
Word: DOC, DOCX, DOT, DOTX, DOCM, DOTM, RTF
Excel: XLS, XLSX, XLSM, XLSB, CSV, XLS2003
PowerPoint: PPT, PPTX, PPS, PPSX
OpenDocument & Other Formats
OpenDocument Formats: ODT, OTT, ODS, ODP, OTP
Fixed Layout: PDF
AutoCAD Drawings: DXF, DWG
Web: HTML, HTM
Email:EML, EMLX, MSG, MHTML
Text: TXT, Other Text Formats with Different Extensions
Others: DjVu, DCOM, DCM

Previous
Next
Advanced Document Comparison API Features
Multiple file formats supported
Beat Performance - Accurate and fastest comparison API
Easy integration with just two lines of code to perform document comparison
Free ASP.NET MVC application with integrated file comparison API
Compares content for differences in words and paragraphs
Get differences for styles like font size, bold, italic etc
Separate differences summary
Compare documents - the easy way
It is now easy to review and compare documents for keeping track of changes with just few lines of code
Document comparison - C#
 //Source and target files to be compared




string

 source = @

"source.docx"

;


string

 target = @

"target.docx"

;


Comparer

 comparer = 

new

 Comparer();


//Compare two documents




ICompareResult

 result = comparer.Compare(source, target, 

new

 ComparisonSettings());

Microsoft Word Files Comparison
Native track changes for Microsoft word files comparison
Merge these track changes and save in separate file
Accept/reject changes in Word files
Support for Group Shapes while using Comparison.Words
Implement Comparison by Page Numbers while using Comparison.Words
Implement formulas comparison
Merge & compare up to 3 Word files
HTML Files Comparison
Save HTML files to word document while using Comparison.Text
Can save comparison result as images
PDF Comparison
Implement the own absorber of tables
Automatic format detection with saving results into
File
File with extension
File with extension for encrypted documents
File for encrypted documents
File with comparison type and settings for encrypted documents
Stream
Stream with comparison settings
Stream with comparison type and settings
Stream for encrypted documents
Stream with comparison settings for encrypted documents
Stream with comparison type and settings for encrypted documents
Compare Files API Supported Formats
Following documents types can be compared
Portable Document Format
Microsoft Word Formats
Microsoft Excel Formats
Microsoft PowerPoint Formats
OpenDocument Formats
Plain Text Files
HTML
Installation and Usage
GroupDocs.Comparison for .NET API files can be installed/downloaded directly as:
How to compare two PDF Text or Word documents Once the APIs package is installed using any of the these sources – just add reference of GroupDocs.Comparison.dll and you are ready using it as a file comparison tool to compare documents of supported formats for finding differences between them.
Support and Learning Resources
GroupDocs.Comparison offers document automation APIs for other popular development environments as listed below: