.NET API to Merge & Split Documents
API to Combine, Split, Swap, Trim or Remove Documents, Slides and Diagrams in .NET Applications.
  Download Free Trial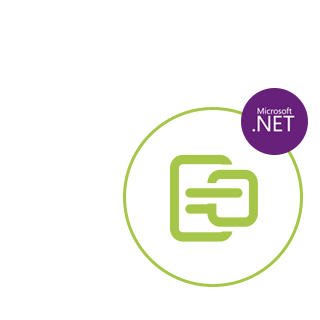 GroupDocs.Mergerfor .NET
GroupDocs.Merger for .NET, assists you to rapidly develop top-class business applications in C#, ASP.NET and other .NET technologies. Just a few lines of code will enable your .NET applications to combine, split, rearrange, swap, trim and remove single page or a collection of document pages, slides, images or diagrams. Perform these operations on secure files by setting or removing password protection of known and unknown file formats.
By using GroupDocs.Merger for .NET, you can perform merging; splitting and other related operations on single documents as well as a batch of documents. Programmatically stitch files of all popular formats, such as Microsoft Word, Excel, PowerPoint, Visio, OpenDocument, PDF, XPS, TXT, CSV, eBook and image file formats.
At A Glance
An overview of .NET document merger API
 Single Document Operations
Change Page Order
Remove or Delete Pages
Split or Break document
Swap or shuffle any two pages
Trim single or multiple pages
 Multiple Files Operations
Setup document security
Check document security status
Set document password
Update document password
Remove document password

Platform Independence
Supported Operating Systems and Frameworks
Windows Desktop (x86 & x64)
Windows Server (x86 & x64)
Windows Azure
Linux
.NET Framework 2.0 or higher
Mono Framework 1.2 or higher

Supported Document Formats
GroupDocs.Merger for .NET supports merging the following document file formats:
Word: DOC, DOCM, DOCX, DOT, DOTX, DOTM, RTF
Excel: XLS, XLSX, XLSM, XLSB, XLT, XLTM, XLTX
PowerPoint: PPT, PPTX, PPS, PPSX
Visio: VSDX, VSDM, VSSX, VSSM, VTX, VSTM, VDX, VSTX, VSX
OneNote: ONE
OpenDocument & Other Formats
OpenDocument Formats: ODT, OTT, ODP, OTP, ODS
Fixed Layout: PDF, XPS
Text: TXT, CSV, TSV
Images: BMP, PNG
LaTex: TEX
Ebook: EPUB

Previous
Next
GroupDocs.Merger for .NET Features
Combine & merge multiple pages, slides & diagrams into a single document
Split and break large documents into multiple smaller files
Rearrange, shuffle and reorganize pages, slides or diagrams
Swap and exchange two pages, slides or diagrams with each other within a document
Trim document by removing specific pages, slides or diagrams
Remove single or collection of pages, slides or diagrams
Stitch together large number of documents in batches
Programmatically check if a document is secured with password
Set, reset and remove password of known and unknown document formats
Fetch list of supported file formats
Rotate pages of known & unknown formats
Change page orientation of known & unknown formats
Splitting large text files by line numbers
Obtain image representations of document pages and diagram family formats
Join Images with Background Color for Empty Black Image Space
Remove Desired Pages from Documents
GroupDocs.Merger for .NET API helps you delete unwanted pages from your document.
Check Password of Unknown Document Format
GroupDocs.Merger for .NET API enables you to check password of a document whose format is not known.
Support and Learning Resources
GroupDocs.Merger offers document combining APIs for other popular development environments as listed below: