Java API to Manipulate Watermarks
Develop Java Applications to perform Image & Text Watermarking operations with Smart Search & Robust Security
  Download Free Trial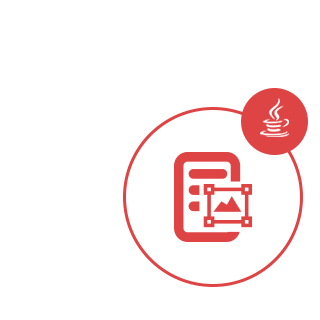 GroupDocs.Watermark for Java
GroupDocs.Watermark for Java allows you to make business applications that enable your end-users to apply new watermarks, search and delete existing watermarks in files of supported formats. You can programmatically assign digital watermarks to lots of file formats and utilize its powerful smart search abilities. GroupDocs.Watermark for Java provides various built-in security measures that can be employed to avoid misuse of digital documents that contain sensitive information or intellectual property content.
At A Glance
Following is an overview of features offered by GroupDocs.Watermark for Java:
Apply & Delete Watermark
Find & Modify Watermark
Search by Text Formatting
Find by Image Comparison
Work with Headers & Footers
Work with Background Images
Attachment Manipulation
Build Rasterized Pages
Employ Editing Restrictions

Platform Independence
Supported Operating Systems and Frameworks
 Java Run Time Environment
Version 6 (1.6) and above
Windows, Desktops and Servers
Linux
Mac OS
NetBeans
IntelliJ IDEA
Eclipse

Supported Document Formats
Supported document formats and supported watermark type for each format.
Microsoft Office and Visio Formats
Word: DOC, DOCX, DOT, DOTX, DOCM, DOTM, RTF
Excel: XLS, XLSX, XLT, XLTX, XLSM, XLTM
PowerPoint: PPT, PPTX, PPS, PPSX, POTX, PPTM, PPSM, POTM
Visio: VSDX, VSTX, VSSX, VSDM, VSSM, VSTM, VDX, VSX, VTX
PDF: XObject, Artifact, Annotation
Word: Shape
Excel: Shape, Header & Footer
PowerPoint: Shape
Visio: Shape
Raster Image: Text, Image
Multi-page Tiff: Text, Image
Animated Gif: Text, Image
Portable Document Format: PDF
Open Document: ODT
Email: EML, MSG, EMLX, OFT
Images: PNG, BMP, GIF, JPG, JPEG, JP2, TIF, TIFF, WebP
PDF: XObject, Artifact, Annotation, Regular Text
Word: Shape, Regular Text
Excel: Shape, Header & Footer, Background Image, Text and formulas in cells
PowerPoint: Shape
Visio: Shape, Diagram Comments
Email: Attached and embedded images, Subject and body text fragments

Previous
Next
GroupDocs.Watermark for Java Features
Pull all Documents of Various Formats from a Folder and Apply or Remove Watermarks
Employ or Delete Watermark from a Particular Section only
Add or Remove Watermark from Complete Document
Apply Watermark to all Images in a Particular Section, Page, Slide, or Document
Attach Watermark to Selected Frames of a Multi-Framed Image
Apply Hidden Watermark to PDF to Appear when Printing Document
Employ Watermark to Attachments in an Excel Document
Employ Watermark to all Image Shapes in Presentation
Place Watermark in the Background Images of Presentation or Excel Sheet
Set Watermark to Supported Files in Attachments of an Email or PDF File
Employ Image & Text Effects to Relevant Watermark
Add or Delete Watermark as XObject, Artifacts & Annotations in PDF Files
Add or Remove an Attachment from PDF or Excel Sheet/p>
Attach or get rid of Particular or all Attachments from the Email Messages
Embed or Remove Images from the Body of the Email
Delete Watermark matching Text with Particular Formatting
Delete or Remove Hyperlink associated with a Particular Shape or Chart
Get rid of Background Image of a Particular Slide or Excel Worksheet
Remove Hyperlinks that are activated on Mouse Over in Presentation
Find Image Watermarks resembling a Particular Image
Locate available Watermarks from a Particular Section or Complete Document
Identify Text Watermark even if there are Unreadable Characters between Letters
Find & Replace available Text, Hyperlink & Image Watermarks
Find matching Text in the Email Subject as well as in the Body
Look for Watermarks based on Specific Parameters or by Assigning Multiple Criteria
Specify Font Formatting to locate Matching Text Watermark
Specify Searchable Objects inside the Document
Extract Page Setup & related Information for Files of Supported Formats
Get Page, Slide, Cell Dimensions for Absolute Size & Positioning of Watermark
Delete or Remove Specific Header & Footer
Apply Different Headers & Footers to Even, Odd & Title Pages of Word Document
Apply Watermark to Images inside any Header & Footer in Supported Document Formats
Restrict Editing of Watermarks in Word Document
Secure Text Watermark in Presentations using Unreadable Characters
Protect PDF Document Watermarks by Rasterizing Single Page or Whole Document
Modify Text Formatting when Replacing Current Text Watermark
Align Watermark to Bleed Box, Art Box, Crop Box, or Trim Box in PDF File
Change Shape Properties such as Alternative Text, Rotate Angle etc. in Presentation
Employ Word Image Effects & Word Text Effects to Watermarks
Employ Watermarks
GroupDocs.Watermark for Java allows you to work with numerous kinds of watermarks. It is only a matter of few lines of code to add watermark of any type. Following example shares, how you can add an image watermark using Java:
Applying Image Watermark using Java
Document

 doc = 

Document

.load(

"sample.docx"

);


 // Use path to the image as constructor's parameter




ImageWatermark

 watermark = 

new

 ImageWatermark(@

"D:\watermark.jpg"

);
doc.addWatermark(watermark);  

 // Add watermark to the document


doc.save();  

 // Save document


watermark.close();
doc.close();

Add Watermark to Files of Different Formats in a Go
With GroupDocs.Watermark for Java API you can add or remove watermark of all documents present in a particular folder in batch mode. It does not matter, if the documents are of different format, GroupDocs.Watermark for Java will apply watermark to all the files accurately.
Assign Foolproof Security to your Watermarks
With minimal code you can assign foolproof security to your watermarks and make it extremely difficult for any 3rd party tool to modify or remove your assigned watermark from PDF file. It is so because GroupDocs.Watermark for Java allows you to convert all pages of a PDF file into Rasterized images. This approach makes your digital watermarks secure while keeping their quality near to original.
Support and Learning Resources
GroupDocs.Watermark offers document watermarking APIs for other popular development environments as listed below: