Java text and image watermark APIs
Document watermark creator and remover APIs for Images, PDF and Microsoft Office documents within any Java based application
Download Free Trial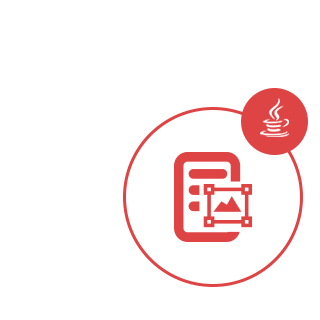 GroupDocs.Watermark for Java
GroupDocs.Watermark for Java is a powerful document watermarking API to add, search and remove watermarks in supported file formats. Furthermore, Watermarks added by the API are hard to be automatically removed by third-party tools. While it can be easily used for searching and removing previously added watermarks of popular types. API is a self-descriptive and straight-forward for integrating image and text watermarks within any PDF, Microsoft Office and multiple image document formats.
At A Glance
An overview of document watermark API how to add and remove watermarks.
Load Document
Create Search Criteria
Initialize Search Criteria
Find Possible Watermarks
Remove Found Watermarks
Save Document
Load Document
Create Watermark Object
Initialize Object
Add Watermark
Save Document

Platform Independence
Supported Operating Systems and Frameworks
 Java Run Time Environment
Windows, Desktops and Servers
Linux
Mac OS

API Supported Document Formats
GroupDocs.Watermark for Java API supports Microsoft Word, Excel and PowerPoint documents.
Microsoft Office and Visio Formats
Word: DOC, DOCX, DOT, DOTX, DOCM, DOTM, RTF
Excel: XLS, XLSX, XLT, XLTX, XLSM, XLTM
PowerPoint: PPT, PPTX, PPS, PPSX, POTX, PPTM, PPSM, POTM 
Visio: VSDX, VSTX, VSSX, VSDM, VSSM, VSTM, VDX, VSX, VTX
Portable Document Format: PDF
Open Document: ODT
Email: EML, MSG, EMLX, OFT
Images: PNG, BMP, JPG, JPEG, JP2, GIF, TIFF, WebP

Previous
Next
Advanced Watermarking API Features
Multiple supported document formats
Adding watermark to images inside a document
Text and image watermark types
Search and remove Text/Image watermark
Working with existing watermark objects
Extracting watermark objects information in a document
Specify objects for watermark search
PDF document rasterization
Getting document information
Searching watermarks by text formatting (font, color etc)
Working with hyperlinks associated with document entities (all formats)
Setting background image for charts in Excel and PowerPoint
Specify Dynabic.Metered account to run API in licensed mode
Adding Watermarks
API has two watermark types Text or Image. Adding watermarks of any type contains a few lines of code.
Adding image watermark - Java
Document

 doc = 

Document

.load(

"sample.docx"

);


 // Use path to the image as constructor's parameter




ImageWatermark

 watermark = 

new

 ImageWatermark(@

"D:\watermark.jpg"

);
doc.addWatermark(watermark);  

 // Add watermark to the document


doc.save();  

 // Save document


watermark.close();
doc.close();

Watermarking in Microsoft Word And Visio Formats
GroupDocs.Watermark for Java API allows adding watermark objects in the header and footer of the pages. Moreover, API can also insert watermarks into a Word document section or images within that section by extracting particular section information firstly. Also, remove a particular shape within a specific section from any level of document structure.
Similarly, watermarks in Visio documents are mostly represented by shapes. API can easily extract information about all or particular Shapes and Headers & Footers. Also, API is able to remove and replace a particular Header&Footer or shape
Watermark in Excel Document
API provides an easy way to add watermark to the worksheets, a particular worksheet or to images within a specific worksheet. Shapes, Backgrounds, Headers and Footers watermark types are supported in Microsoft Excel document.
By default, Watermark is added as a Shape. One can extract Information about all shapes in the whole document, add watermark to all image shapes and can remove a particular shape.
Similarly, Watermark can also be added as background. Furthermore, it is easy to extract Information about all backgrounds, insert watermark to all backgrounds or clear a particular background.
Watermarks within Headers & Footers

Extract information about all Headers & Footers
Add watermark
Add watermark to all images within this section
Clear a particular Header & Footer
Remove a particular section of Header & Footer
Watermark in PowerPoint
API can add watermark to particular master, layout or notes slides of a PowerPoint presentation in a simplified way. Text or image effects can be applied to shape watermark. With Shape type, API can extract information about all image shapes, remove a specific shape or add watermark to all image shapes. Similarly, using Background type it is easy to extract information about all slides backgrounds, insert watermark to all background images or remove a particular background image.
PDF Watermarks
API supports three types of PDF watermark XObjects, Artifacts and Annotations and is able to add watermark using any of these three methods. Moreover, API can also extract information about all XObjects, Annotations, and Artifacts in a PDF document. Removing PDF watermark is easy with third-party tools but with the use of PDF document rasterization API feature, it is impossible to remove it.
Support and Learning Resources
GroupDocs.Watermark offers document watermarking APIs for other popular development environments as listed below: