.NET watermark creator and removal APIs
Text and image watermark placement and removal in PDF, Images, Microsoft Office and Visio documents within any .NET application
Download Free Trial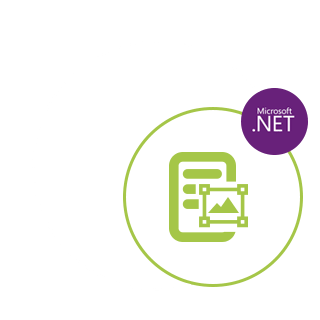 GroupDocs.Watermark for .NET
GroupDocs.Watermark for .NET is a powerful document watermarking API to add image and text watermarks. Furthermore, API works to search and remove the watermarks which were already added to the documents by other third-party softwares. The watermarks added by this API are hard to remove by any third-party tools. It is straight-forward and self-descriptive for integration into the custom applications. Microsoft Word, Excel, PowerPoint, Visio, PDF, raster images multi-page tiff and animated GIF formats supported.
At A Glance
An overview of document watermark API how to add and remove watermarks.
Load Document
Create Search Criteria
Initialize Search Criteria
Find Possible Watermarks
Remove Found Watermarks
Save Document
Load Document
Create Watermark Object
Initialize Object
Add Watermark
Save Document

Platform Independence
Supported Operating Systems and Frameworks
Microsoft Windows Desktop
Windows Server
Windows Azure
ZIP Archive
MSI Package
NuGet

API Supported Document Formats
GroupDocs.Watermark for .NET API supports Microsoft Word, Excel and PowerPoint documents.
Microsoft Office and Visio Formats
Word: DOC, DOCX, DOT, DOTX, DOCM, DOTM, RTF
Excel: XLS, XLSX, XLT, XLTX, XLSM, XLTM
PowerPoint: PPT, PPTX, PPS, PPSX, POTX, PPTM, PPSM, POTM 
Visio: VSDX, VSTX, VSSX, VSDM, VSSM, VSTM, VDX, VSX, VTX
Portable Document Format: PDF
Images: PNG, BMP, JPG, JPEG, JP2, GIF, TIFF, WebP

Previous
Next
Advanced Watermarking API Features
Multiple supported document formats
Adding watermark to images inside a document
Text and image watermark types
Search and remove Text/Image watermark
Working with existing watermark objects
Extracting watermark objects information in a document
Specify objects for watermark search
PDF document rasterization
Getting document information
Searching watermarks by text formatting (font, color etc)
Working with hyperlinks associated with document entities (all formats)
Setting background image for charts in Excel and PowerPoint
Specify Dynabic.Metered account to run API in licensed mode
Watermarking in Microsoft Word And Visio Formats
GroupDocs.Watermark for .NET API allows adding watermark objects in the header and footer of the pages. Moreover, API can also insert watermarks to a Word document section or images within that section by extracting particular section information firstly. Watermark in Word are mostly represented by shapes so use API for inserting shape collection to images in a document. Also, remove a particular shape within a specific section from any level of document structure.
Similarly watermarks in Visio documents are mostly represented by shapes. API can easily extract information about all or particular Shapes Headers&Footers. Also API is able to remove and replace a particular Header&Footer or shape
Watermark in Excel Document
API provides an easy way to add watermark to the worksheets, a particular worksheet or to images within a specific worksheet. Shapes, Backgrounds, Headers and Footers watermark types supported in Microsoft Excel document.
Using Shape type, one can extract Information about all shapes in whole document, add to all image shapes and can remove a particular shape.
Similarly using Background type it is easy to extract Information about all backgrounds, insert to all backgrounds or can clear a particular background.
With Headers&Footers type API supports extracting information about all Headers&Footers, adding to all images in Header&Footer, clearing a particular Header&Footer or removing a particular section in Header&Footer
Watermark in PowerPoint
API can add watermark to particular master, layout or notes slides of a PowerPoint presentation in a simplified way. Text or image effects can be applied on shape watermark. With Shape type, API can extract information about all image shapes, remove a specific shape or add watermark to all image shapes. Similarly using Background type it is easy to extract information about all slides backgrounds, insert watermark to all background images or can remove a particular background image.
PDF Watermarks
API supports three types of PDF watermark XObjects, Artifacts and Annotations and is able to add watermark using any of these three methods. Moreover, API can also extract information about all XObjects, Annotations and Artifacts in a PDF document. Removing PDF watermark is easy with third-party tools but with the use of PDF document rasterization API feature, it is impossible to remove it.
Installation and Usage
API can be consumed on .NET Framework starting from V2.0 and Mono Framework starting from V1.2. Viewer API files can be installed/downloaded using following smooth ways.
Support and Learning Resources