Java document editing and transformation APIs using HTML
Edit and transform documents using HTML Editor or by any UI-less service within any Java based application
Download Free Trial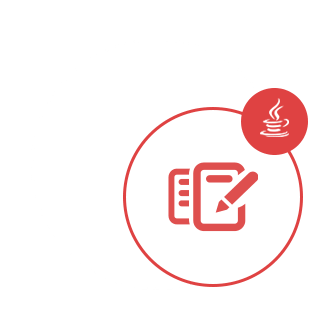 GroupDocs.Editor for Java
GroupDocs.Editor for Java API enables document editing in form of HTML. API supports multiple document formats and can be integrated with any external, opensource or paid HTML editor. Editor API will process to load documents, convert it to HTML, provide HTML to external UI and then save HTML to original document after manipulation. It can also be used to generate different Microsoft Word files, OpenDocument Formats, XML and TXT documents.
At A Glance
An overview of API how to load and edit documents using HTML.
Load Document
Edit content using HTML
Edit styles
Perform Editor operations
Convert back to supported file

Platform Independence
Supported Operating Systems and Frameworks
 Java Run Time Environment
Windows, Desktops and Servers
Linux
Mac OS

API Supported Document Formats
Java Editor API supported formats listed below. PDF files, Microsoft Excel and PowerPoint documents will be implemented in future versions.
Microsoft Word: DOC, DOCX, DOTX, DOCM, RTF
OpenDocument & Other Formats
OpenDocument Formats: ODT, OTT
Text: TXT
Web: HTML, MHTML
Other: MOBI, WordML (XML), FlatOpc (XML)

Previous
Next
Advanced GroupDocs.Editor API Features
Direct and inverse document transformation
Edit multiple document formats
Reply based comments and statuses
Apply protection to the resultant document
Translate Document to HTML DOM & Vice Versa
GroupDocs.Editor for Java API allows to load the document and convert it to the HTML DOM for parsing structure as well as the extraction of CSS contents. The API also allows to convert the DOM to document format.
Get HTML documnet content - Java
// Obtain document stream




InputStream

 inputStream = 

new

 FileInputStream(

"D:\storage\sample.docx"

);


try

{
	

InputHtmlDocument

 htmlDoc = 

EditorHandler

.toHtml(inputStream);
	

// Obtain HTML document content

 
	

String

 bodyContent = htmlDoc.getContent();
	

System

.

out

.println(bodyContent);
} 

catch

 (

Exception

 ex){
  ex.getMessage();
}

Support and Learning Resources
GroupDocs.Editor offers document Editing APIs for other popular development environments as listed below: