Java document automation and reporting APIs
Generate documents from defined templates and data sources. Automate Microsoft Word, Excel, PowerPoint and OpenOffice documents creation.
  Download Free Trial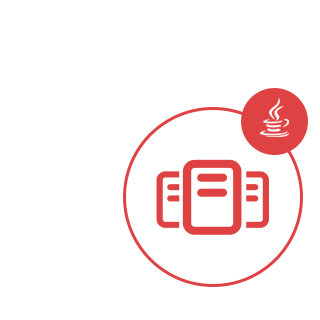 GroupDocs.Assembly for Java
GroupDocs.Assembly for Java is a document generation and reports automation API to create custom documents from templates on the fly. APIs take data from defined data sources such as database, Odata, JSON, XML or custom java objects and generate files or reports using defined document template.
Document generation API supports various Template Elements such as Repeated, Conditional, Text and HTML Blocks, Charts and Images. These elements are added to Document Templates to create rich documents as per requirements. Every template element has its own formatting properties like Text, Chart, numeric value formatting and more.
At A Glance
An overview of Java Assembly API how to automate document generation process.
Formulas
Sequential Data Operations
Type Member Invocation
Built-In Data Relation
External Document Import
Data Processing Customization
Formatted Text Blocks
HTML Blocks
Repeated Blocks
Conditional Blocks
Images
Charts
Barcodes
Hyperlinks
Database
XML
OData
JSON
Custom Java Objects
Spreadsheet as Table of Data
Word Processing Table as Table of Data
 Template Element Formatting
Numeric/Date-Time Value
Text Formatting
Conditional Text Formatting
Image Formatting
Chart Formatting

Platform Independence
Supported Operating Systems and Frameworks
Microsoft Windows Desktop
Windows Server
Linux
macOS

API Supported Output Document Formats
Java document generator API supports Microsoft Word , Excel, PowerPoint , OpenOffice and XML documents.
Word: DOC, DOCX, DOT, DOTX, DOCM, DOTM, RTF, WordprocessingML (XML)
Excel: XLS, XLSX, XLSM, XLSB, XLT, XLTX, SpreadsheetML (XML)
PowerPoint: PPT, PPTX, PPTM, PPS, PPSX, PPSM, POTX, POTM
OpenOffice Document Formats: ODT, OTT, ODS, ODP
Web Formats: HTML
Other Formats: TXT

Previous
Next
Advanced Document Generation API Features
Multiple document formats support
Generate documents from more than one data sources
Data manipulation features
Support for multiple template elements
Multiple template elements formatting support
Template syntax formatting
LINQ-based template syntax
More than one data sources
Generate documents from following data sources
Database
Odata
JSON
XML
Custom Java objects
Data manipulation capabilities
Formulas implementation
Sequential data operations such as filtering, ordering, grouping, aggregating, etc. supported via LINQ syntax for data sources of all types
Type member invocation
Built-In data relation support
Data processing customization supported using external Java types
External document import
Support for multiple template elements
Formatted text blocks
HTML blocks
Repeated blocks including list items and table rows
Conditional blocks including list items and table rows
Images
Charts
Barcodes supported through barcode fonts
Hyperlinks
Pivot tables will be supported soon
Bound form controls will be supported soon
Template Syntax Formatting
String Formatting

lower, upper, caps, firstCap

Numeric Formatting

alphabetic, roman, ordinal, ordinalText, cardinal, hex, arabicDash

Outer Document Insertion

Outer documents can be inserted in reports dynamically

Barcode Image Generation

Barcode images can be generated in Word, Excel and PowerPoint documents

Multiple template elements formatting support

Numeric/Date-Time value formatting
Text Formatting
Conditional text formatting supported only through conditional blocks
Image formatting (WYSIWYG)
Chart formatting (WYSIWYG)
Template Syntax
LINQ-based
Mustache will be supported soon
API Integration
Just few lines of code to integrate API. Here is a sample for generating reports
Generate report in open document format - Java
// Instantiate DocumentAssembler class




DocumentAssembler

 assembler = 

new

 DocumentAssembler();


//Call AssembleDocument to generate report




DocMetadata

 properties = docFormat.getDocumentProperties();
assembler.assembleDocument(

"D:\\WordTemplates\\Barcode.docx"

, 

"D:\\WordReports\\Barcode_report.docx"

,  

new

 DataStorage().getManagers().iterator().next();, 

"value"

);

Installation and Usage
GroupDocs.Assembly for Java library files can be installed/downloaded directly as:
Fat version
Download the library from the download archive.
Extract the archive.
Open console and cd to lib directory of the extracted directory.
Run command mvn install:install-file -Dpackaging=jar -Dversion=17.9.0 -DgroupId=com.groupdocs -DartifactId=groupdocs-assembly -Dfile=GroupDocs.Assembly.jar or just run the install_library.bat to install library in maven
Note: version number and file name can be different from current documentation.
Add dependency to your pom.xml


<dependency>
   <groupId>com.groupdocs</groupId>
   <artifactId>groupdocs-assembly</artifactId>
   <version>17.9.0</version>
   <type>jar</type>
</dependency>

Slim version
This library is hosted in the Maven Central Repository, so if you use Maven in your projects just use the dependency declaration provided above.
The jar itself you can download from the Maven Central Repository.
Another way to use.
All it takes to start rolling with GroupDocs.Assembly is to reference a single GroupDocs.Assembly.jar file.
If you download the Zip Archive as discussed in the previous topic then you are required to add the external library by practicing the following steps in Eclipse:
Right click on Java project, and go to Properties.
Go to Java Build Path.
Open Libraries tab.
Press Add External JARs.., and load GroupDocs.Assembly Jar.
Support and Learning Resources
GroupDocs.Assembly offers document automation APIs for other popular development environments as listed below: