Java annotation APIs
Insert, modify or delete notes, comments and tags to the document's content using Java document annotation API.
  Download Free Trial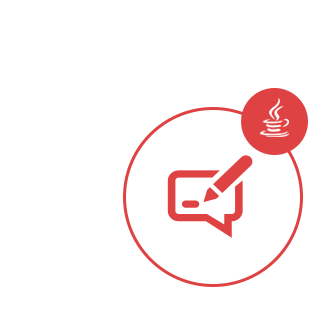 GroupDocs.Annotation for Java
GroupDocs.Annotation for Java is a lightweight API that lets you seamlessly enhance your Java app with document viewing and annotation functionality. API supports Microsoft Word DOCX, Excel XLSX, PowerPoint PPTX and PDF documents currently. Image formats will be available soon. Consuming API, you can enable end users to view, annotate, share and print both types of documents from within your Java app.
At A Glance
An overview of Java annotation API
Area
Point
Text
Strikeout
Underline
Polyline
Arrow
Watermark
Abstract Storage
Export Annotations
Users Management
Reply Based Comments
Annotations Compatibility

Platform Independence
Supported Operating Systems and Frameworks
 Java Run Time Environment
Windows, Desktops and Servers
Linux
macOS

API Supported Document Formats
Microsoft Word: DOCX
Microsoft Excel: XLSX
Microsoft PowerPoint: PPTX
Portable Document Format: PDF

Previous
Next
Advanced Java Document Annotation API Features
Native Word & PDF Annotations
Works across All Major Platforms
Comprehensive Set of Annotation Tools
Annotate Email : Ability to annotate Email documents (export only)
Annotate HTML : Ability to annotate HTML documents
Annotate Images : Annotate numerous image formats like JPG, TIFF, CAD,DjVu
File IO though Java stream for reading and getting document information
Cross-Platform Compatibility
Flexible Options to Store Annotation Objects
Support for Native Word & PDF Annotations
Java annotation API has ability to export annotated PDF and Word documents complete with annotations for offline review and editing. PDF annotations, in turn, can be imported to GroupDocs for online review, markup and commenting.
Comprehensive Set of Annotation Tools
Area annotation – add notes to an area selected with a rectangle.
Point annotation – add notes to any point in the document.
Text annotation – add notes to selected text.
Strikeout/underline - mark up text with strikethroughs/underlines.
Text replacement - type text to replace existing one.
Area redaction - blackout selected area.
Text redaction - blackout selected text.
Polyline - draw freehand lines and shapes.
Pointer/arrow - drop arrows with notes.
Watermark - add watermarks.
Real-Time Annotation
Thanks to the real-time annotation feature, several users can review and annotate the same document simultaneously. Invited parties can see each others' comments and markup in real-time, which delivers the fastest feedback possible and unmatched experience when collaborating on documents.
Flexible Options to Store Annotation Objects
Markup and comments in GroupDocs.Annotation are created and rendered in a separate layer on top of the displayed documents, while the original files are kept unchanged. Annotations can be stored in any DB supported with the ORMLite (persistence) API. No matter what the initial document's format is, annotations can be merged with the original file and exported to a final PDF document.
Cross-Platform Compatibility
Breaking through platform incompatibilities, GroupDocs.Annotation allows end users to view and annotate documents from any web-enabled device, including tablets and mobiles. Supported browsers include: IE (8+), Firefox, Chrome, Opera, Safari 5+ and their mobile versions:
Supported Browsers
IE8+
Chrome
Chrome for Android
Firefox
Firefox for Android
Opera
Opera Mini
Opera for Android
Safari 5+
Mobile Safari
Supported Devices
iPhone
iPad
Android
PC
Mac
Installation and Usage
GroupDocs.Annotation for Java API files can be downloaded directly from:
Fat version
Download API from the download archive.
Extract the archive.
Open console and cd to lib directory of the extracted directory.
Run the install_library.bat to install API in maven
Note: version number and file name can be different from current documentation.
Add dependency to your pom.xml


<dependency>
   <groupId>com.groupdocs</groupId>
   <artifactId>groupdocs-annotation</artifactId>
   <version>17.6.0</version>
   <type>jar</type>
</dependency>

Slim version
This API is hosted in the Maven Central Repository, so if you use Maven in your projects just use the dependency declaration provided above.
The jar itself you can download from the Maven Central Repository.
Another way to use.
All it takes to start rolling with GroupDocs.Annotation is to reference a single GroupDocs.Annotation.jar file..
If you download the Zip Archive as discussed in the Fat version then you are required to add the external API by practicing the following steps in Eclipse::
Right click on Java project, and go to Properties..
Go to Java Build Path.
Open Libraries tab.
Press Add External JARs.., and load GroupDocs.Annotation Jar.
Support and Learning Resources
GroupDocs.Annotation offers document automation APIs for other popular development environments as listed below: